It all came down to this. Lying in bed with the phone, having paid a ridiculous sum for a Divine Mother Distant Healing Session.   She had of course told no one. The ad said the healer could invoke Divine Mother, who resides at the very vibration of creation.   Then, she'd be dipped in and out of Divine Love and Nectar, soaking her right down to her cells, healing her.
The nectar. She couldn't stop thinking about it. She had to have it. This was her last hope.
At the scheduled time, she answered, and a soothing voice asked if she was ready. She pressed the speaker button and lay back. She followed the words, which soon became wordless ocean-waves of sound. Gradually, the sound dropped away. Then, complete stillness. She became aware of a subtle vibration, spreading throughout her body, steadily increasing. That's her, said the voice.   Divine Mother's here now.
Just then her three children burst into the room.
Mommy, Mommy!
You weren't at the bus stop!
We had to use the secret key!
The children got up on the bed and lay beside her. They heard the voice say that the Divine Love and Nectar was pouring down now, covering and caressing her, soothing and soaking every cell in her body. More and more Divine Nectar, the voice said, bathing her, filling her, freeing her, healing her. Lifting her up. They all got up and held hands and jumped on the bed shouting, More! More! More!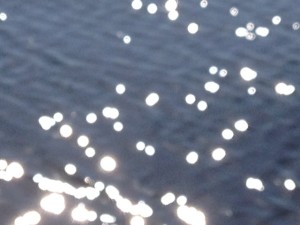 ~This was my first piece of Flash Fiction written for a Loft Class, March 2013~