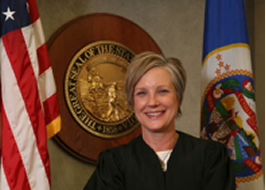 Education
•  J.D., cum laude, William Mitchell College of Law, Saint Paul, Minnesota 1982.
•  B.A., magna cum laude, Hamline University,  Saint Paul Minnesota, 1976.
•  Majors in French and Political Science.
Employment
•  Private Practice, 1982 – 1988.
•  Founder of Susan Cochrane Law Offices in 1984.
•  Southern Minnesota Regional Legal Services in 1988.
•  St. Paul American Indian Center Office, 1988-1992.
•  Family Law Division Supervisor, 1992-1994.
•  Appointed to Hennepin County Bench 1995-2012, Family Court Judicial Officer
Civic Involvement  
•  Former Board of Directors member, Cooperative Solutions, a non-profit organization dedicated to providing quality mediation services to low income persons.
•  Common Ground Meditation Center, student and leader.
•  Lecturer at local, national, and international conferences and trainings on topics of domestic violence, conflict resolution, case management, and all aspects of family law and procedure.
•  Hennepin County/Minneapolis Homeless Connect Event, 2009 -2012. Signed orders and provided instant access to the court to assist the homeless.
•  Restorative Justice Court Event at Sabathani Community Center, 2004, sponsored by the African American Men Project, AMICUS, Hennepin County District Court,Council of Churches,  and other community partners. This was a one-day opportunity for restorative justice in Minneapolis by offering community service to resolve adult traffic charges and regain driving privileges. When this program was discontinued due to cost, Sue Cochrane created "Traffic Court in the Community" at no cost to court or taxpayers (see below.)
•  "Traffic Court in the Community," 2004. Created and implemented an innovative court calendar that traveled into Minneapolis neighborhoods.  Hearings were held in the Minneapolis inner city — at the Urban League, the Brian Coyle Center, the Powderhorn Partners Building on Lake Street, and the Eastside Neighborhood Center. Sue Cochrane and her staff, together with court clerks, Sentence to Service staff, and interpreters, traveled weekly to these inner-city community centers, to continue carrying out the goals of the  Restorative Justice Initiative, working in and with the community to  provide community service to restore licenses.
•  Chair, Domestic Violence Coordinating Committee, Mar. 2002.
Publications and Lectures
"Five Ways to Put a Heart into the Body of Family Law" by Sue Cochrane, J.D.
International Association of Collaborative Practice, November 2014 Journal
Fetzer Institute Blog Feature, 2014
http://fetzer.org/blog/5-ways-put-heart-body-family-law
•  "Early Diversion to ADR," Bench and Bar of Minnesota.
•  "Rules of Court," Annual Family Law Institute.
•  "Family Law – Early Case Management," Co-presenter of early intervention model, Annual Judicial College.
•  "Parenting Plans," Hennepin County Bar Association (HCBA).
•  "Domestic Abuse Issues," Hennepin County Bar Association.
•  "Pro Se Issues," Hennepin County Bar Association
•  "Preparing the Custody Trial," William Mitchell College of Law.
•  "The Order for Protection Trial," William Mitchell College of Law.
•  "Early Intervention to ADR," Minnesota State Bar Association Alternative Dispute Resolution  (ADR) Section, with then-Chief Family Court Judge Charles Porter and Dan Simon, J.D., M.A.
•  "The Temporary Hearing," View from the Bench, with then-Presiding Family Court Judge William Howard.
•  "Family Court Rules and Procedures," Family law Institute.
Bar Admissions
•  United States District Court for the District of Minnesota, June 1982
•  Supreme Court of the State of Minnesota,  May 1982.
•  United States Court of Appeals for the Eight Circuit, May 1982.
Awards and Recognitions
•  Minnesota Justice Foundation, Recognition Award for commitment to Pro Bono Projects for law students, 2000.
•  Hennepin County, "Leading the Way" Award for designing and implementing the "early Intervention Model" of innovative case management, 2001.
•  International keynote speaker and workshop leader, in Saratov, Russia, June 2002. "A Legal Response to Domestic Violence Coordination among the Court, Crisis Center Advocates and Police," Domestic Violence Symposium. Invited by CONNECT-US/RUSSIA, sponsored by the United States Department of State and the Department of International Narcotics and Law Enforcement.  Conference participants were Russian judges, chiefs of police, attorneys and social workers.
•  Lecturer at the International Conference on Transformative Mediation, Sept. 17-18, 2006. "Purpose drives Practice," sponsored by the Institute for the Study of Conflict Resolution. Attendees included legal and mediation practitioners and scholars from the U.S., Europe, and Australia.  ISCR is affiliated with Hofstra University School of Law, University of North Dakota, Temple University, and James Madison University.
•  United States Senate, Select Committee on Indian Affairs, Washington D.C. Testified before the Senate Select Committee on Indian Affairs for disabled Native Americans rights, while practicing at Southern Minnesota Regional Legal Services. Sue invited a Lakota interpreter, and her client, an elder, testified before the Senate Committee in his native language.
Co-Chair, International Symposium sponsored by Fetzer Institute, creating plans for increasing compassion and dignity in family law, collaborative law and family courts.
Mediation and Other Qualifications
•  1985—Erickson Mediation Institute 40 hour Family Law Certification.
•  2005—Transformative Mediation 40 hour Family Law Certificate, Twin Cities Mediation.
•  2005-present—advanced trainings in Marshall Rosenberg's Non-Violent Communication, Restorative Justice, and Transformative Mediation.
•  Trained with internationally recognized NVC Restorative Justice Circles Practitioner
Dominic Barter
Judicial Education Contributions
•  Domestic Abuse Service Center, regular presenter on family law issues.
•  Interpreter Training, 1998-2002.
•  Statewide District Court Education Video Project, 2002.
•  Collaborated with professional video company—created, wrote, produced, and appeared in a culturally diverse divorce education video, used throughout the State of Minnesota and by Supreme Court-approved parent education programs.
•  District Court Child Support Training Video, 2000.
•  District Court Services, Educational Video re: Custody Hearing, 2002.
•  District Court Traffic Video for use in pro se center, in conjunction with Judge Mark Wernick and Susan Love of court administration, 2008.
•  Frequent lecturer on the Indian Child Welfare Act throughout Minnesota, in conjunction with the Indian Bar Association, tribes, and SMRLS, 1988-1995.
•  Teaching Family Law  in Transformative Mediation Trainings, ongoing.
•  Prepared statewide Indian Child Welfare Act (ICWA) checklist for Minnesota social workers to insure compliance with ICWA in Juvenile Court while at Legal Services.
•  Interviewed by National Public Radio and WCCO-TV, as well as appeared on cable television regarding innovative family and traffic court initiative.